Finding and contacting relevant business partners is vital when your company needs to grow or expand to foreign markets. Your goal is to identify those companies and narrow the list down in a way that would make the work of your sales department effective and efficient.
For example, if you were a German company processing wood, you would look for relevant suppliers and buyers interested in purchasing your product.
How to find the right companies that your sales department can contact? You can start looking manually using state registers. However, these don't always contain all relevant data, some data may be entered incorrectly, and there will be no ready-to-use market insights that would tell you where individual companies stand compared to each other. You will only get basic company data which is not always free, often needs to be translated, and is sometimes only available in formats that are hard to process further (for example, PDF).
HitHorizons Screener is a tool for generating more B2B leads
If you need to identify potential business partners, working with a comprehensive database offering several filtering criteria is crucial for finding that perfect match. HitHorizons database contains data on more than 80M companies from 60 countries (including the whole of Europe). It offers access to a company name, headquarters, industry, SIC Code, sales performance, number of employees, and contact details. HitHorizons Screener allows users to filter that data using 18 filtering criteria. In the case of a German company processing wood and looking for suppliers, just 3 filters will be enough to get started - country (Germany), industry (manufacturing), and SIC Code (2411-logging).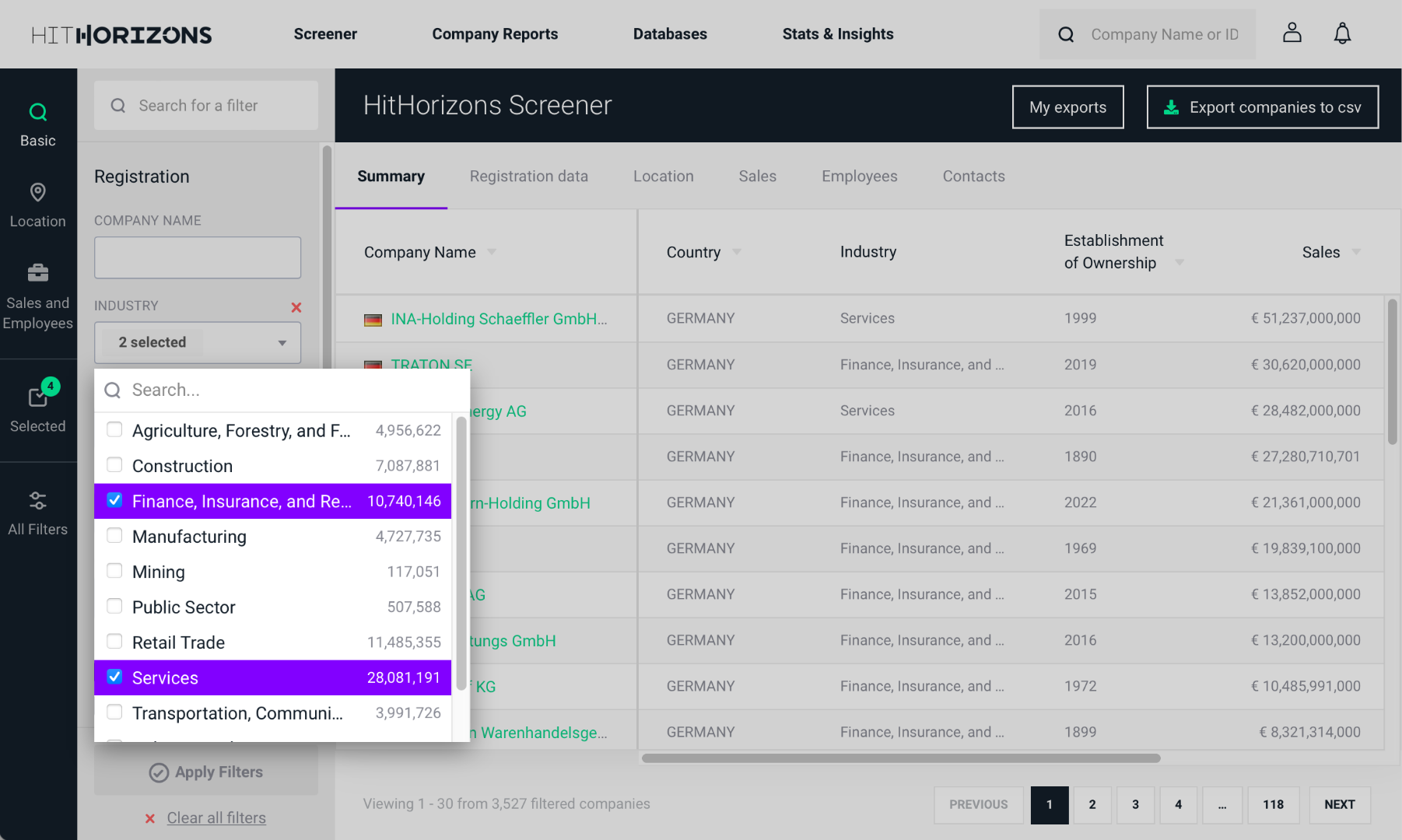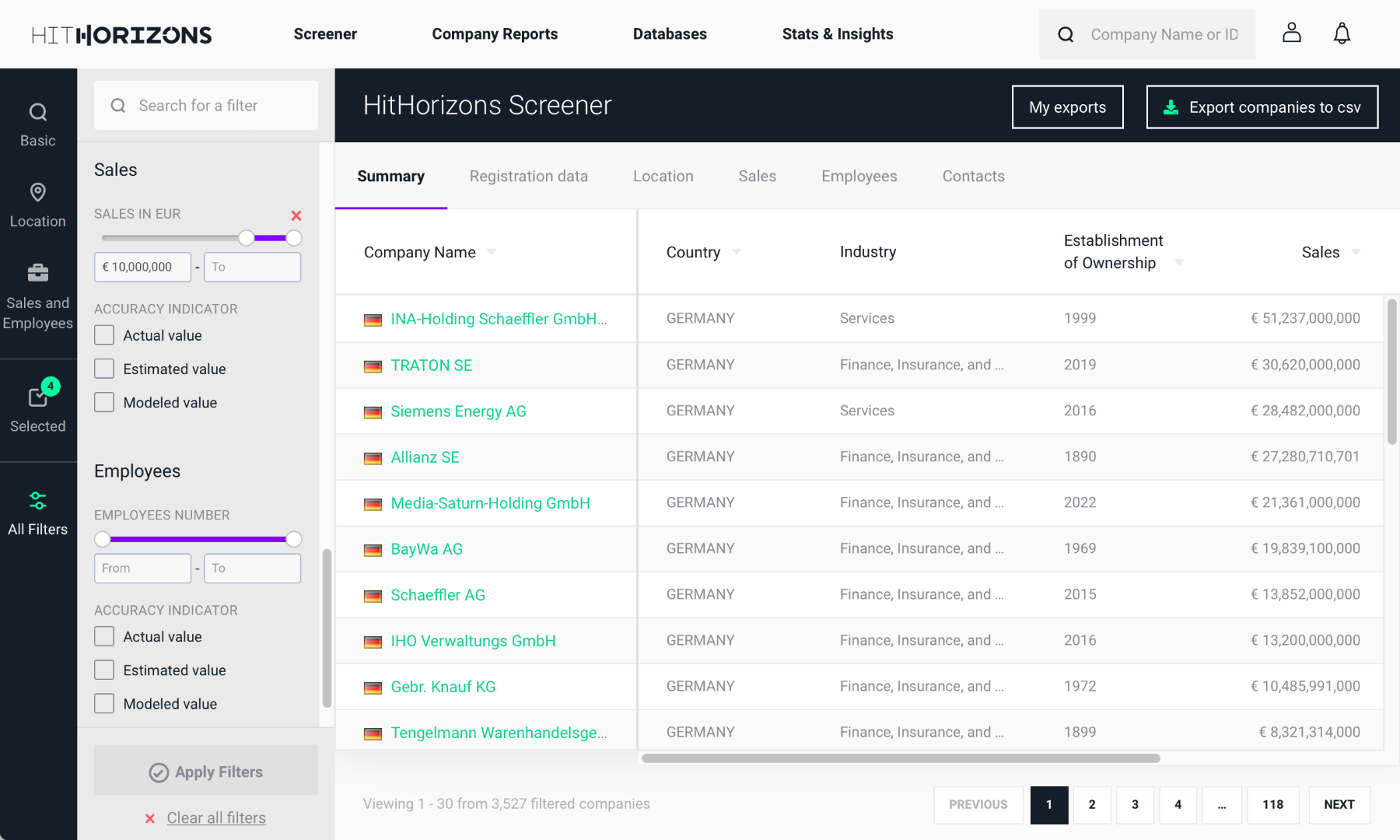 You can export all company data (name, address, sales, number of employees, contact details) to CSV and then work with that data in any tool you use (CRM, ERP, analytics software, data visualisation tools, etc.). You can download up to 50 thousand companies at once. If you end up finding more than 50 thousand companies and need to download that data, split companies into groups based on, for example, their sales performance. All your exports are saved in your profile, and you can come back to them at any time.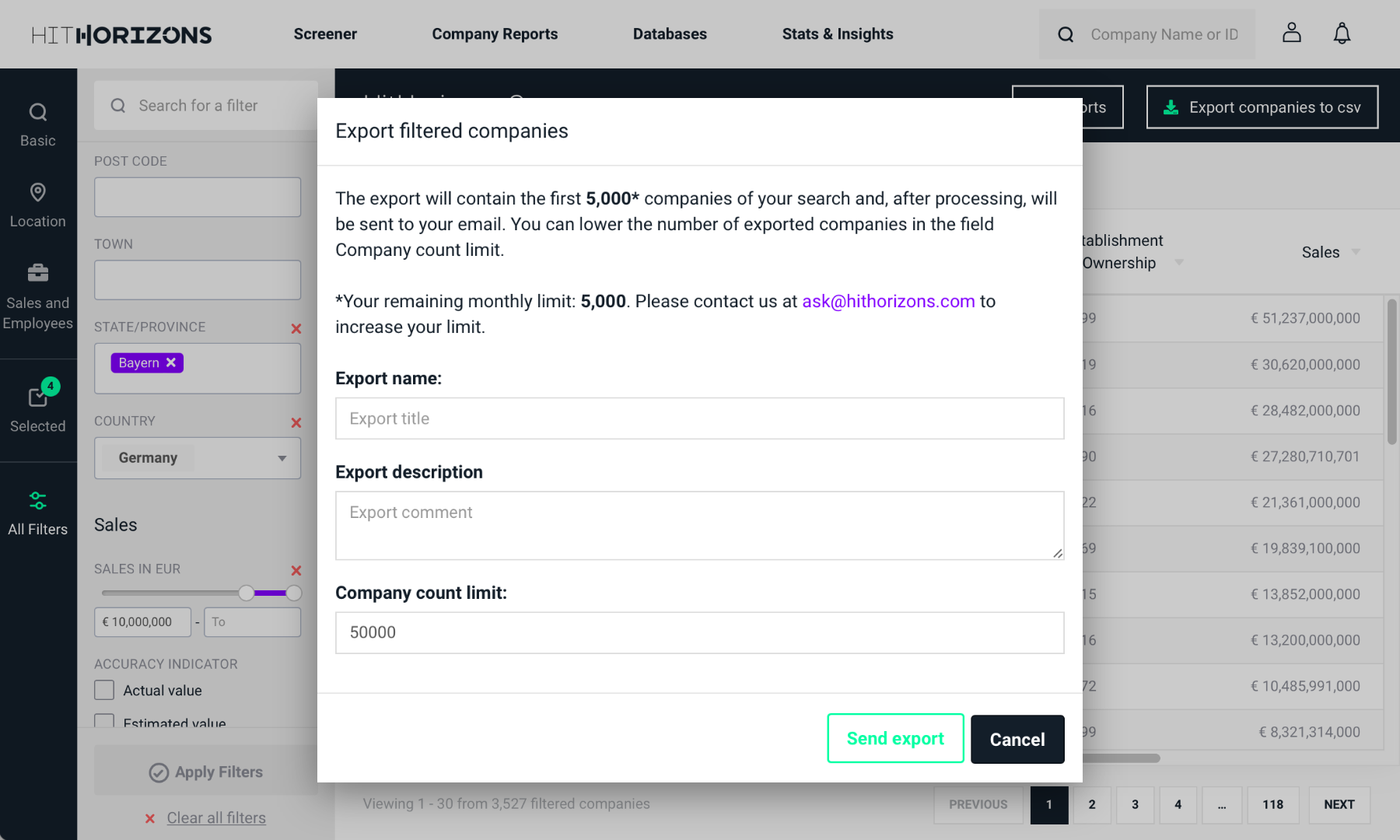 If you are looking for customers, follow the same steps. For example, you could choose SIC Code 2452 (Mfg prefabricated wood buildings). 430 companies are operating in this sector in Germany.
You can also download the data in CSV and work with it using any analytical software.
You can refine your search further by narrowing it down or broadening it - a particular region in Germany, a specific city in Germany, the whole of Austria, one particular area in Austria, etc. You name it.
Let us show you how you can easily filter through 80M+ European companies and quickly find the right business partners at sales@hithorizons.com.
Explore more contents on HitHorizons
Browse related
use cases
Use HitHorizons Screener to simplify the process of B2B lead generation. Streamline your outbound lead generation and acquire new partners easily.
View use case
Our tools help you identify potential customers for your sales or marketing department. Convert B2B prospects to B2B customers now.
View use case