If you want to develop or expand into foreign markets, you probably will not contact every company. You will definitely only target a few thousand of them in a particular industry. So your goal is to find those companies that your sales department can target.
For example, if you are a wood processor in Germany, you are looking for both suppliers of raw material and customers who would buy processed wood from you.
How do you reach the right companies that your sales department can contact? You have two options. You can start looking for companies manually, through the state registers. Although state registers are free or charge a small fee, they often can not be searched consistently. In Germany, for example, you would have a hard time filtering companies by sector or by revenue size. The data with German companies is in PDF format, often incomplete and in some cases for a fee. The state registers do not create filters and deeper analysis of the databases, so you have no choice but to search the database manually.
For this reason, the public registers in Germany will not help you at all. The situation is similar in other European countries such as Austria or Belgium.
Screener as a useful tool for generating more leads
If you need to reach potential business partners, you need to work with filtering criteria. That way you can find a company that will match your requirements. The best way how to find B2B leads or clients is use of HitHorizons's tool Screener. This tool contains data of more than 70 million companies from 60 European as well as post-Soviet countries.
The screener contains basic company data such as headquarters, industry, number of employees, revenue, as well as contact details that will be useful for your sales department.
How to use screener?
The screener allows you to filter data using 18 filter criteria. In our case, three will be enough.
First, select a country within the category on the left side "all filters", for example Germany. Then, similarly select the industry, more specifically manufacturing, and then select the specific SIC Code. In our first case 2411- logging.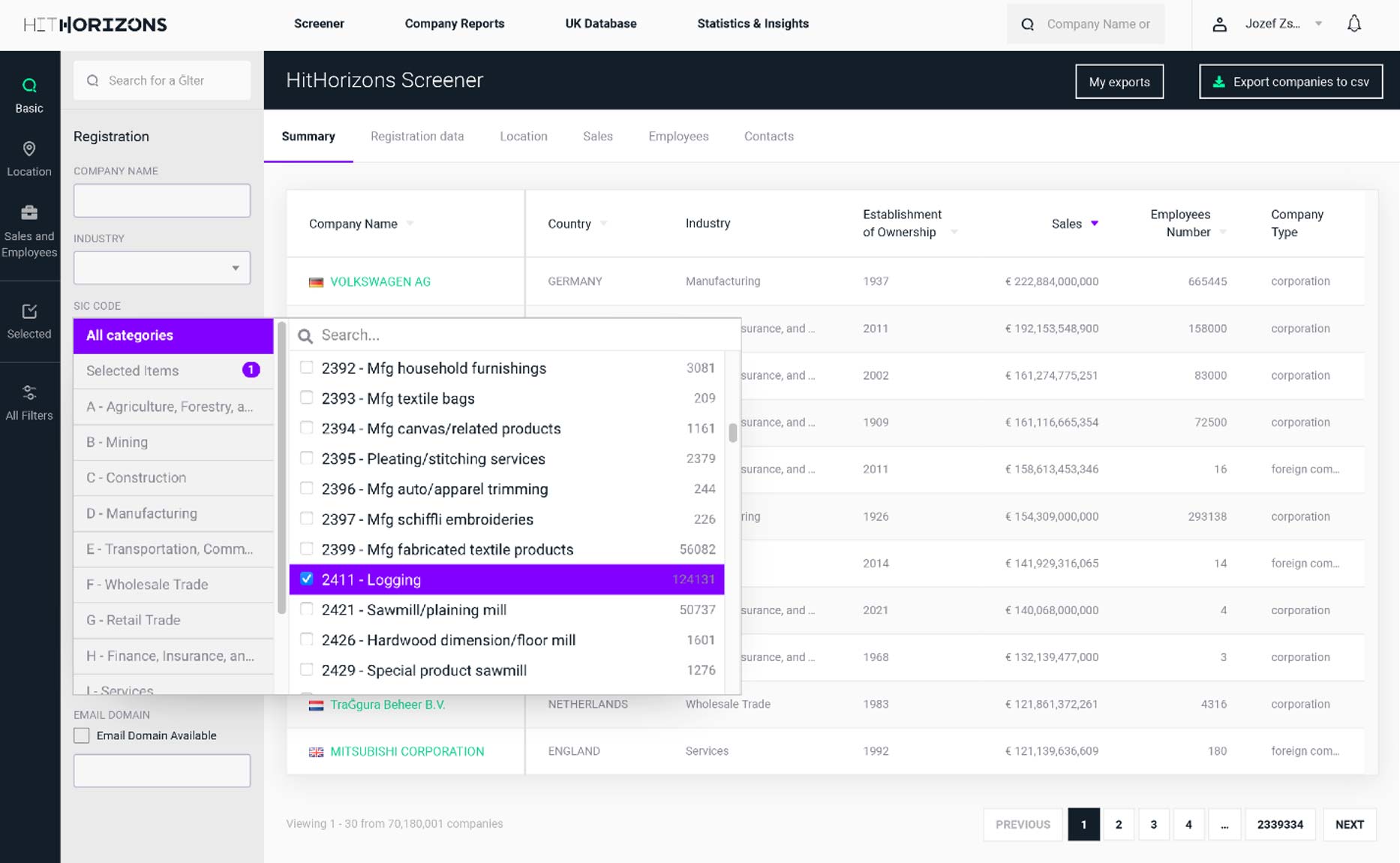 For example, if you wanted to focus on the countries of the European Union, there are more than 86 thousand companies operating in this sector. In Germany, only 207 companies are active in this sector.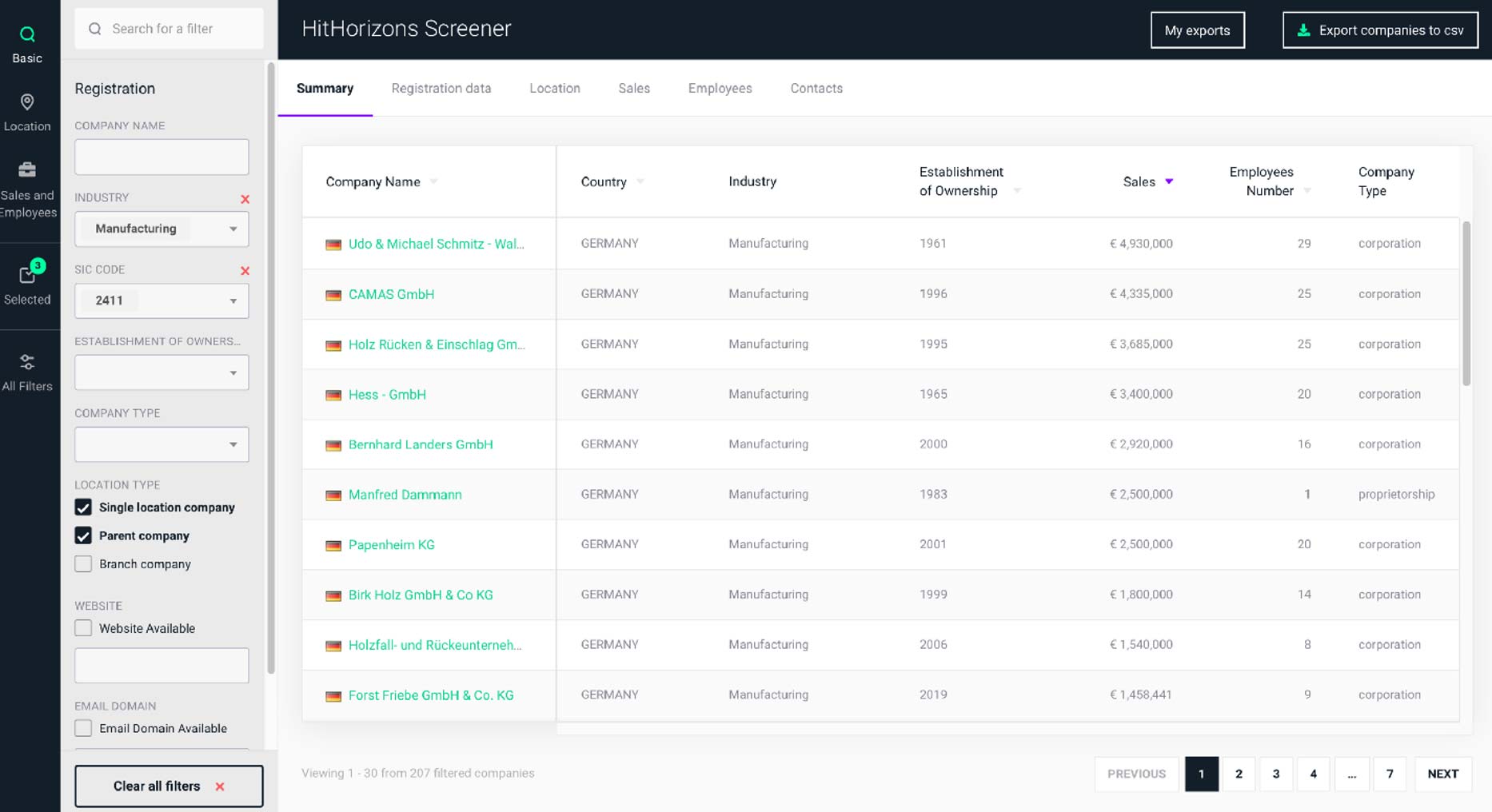 You can download the filtered company data to csv and work with it in excel. You can export up to 50 thousand companies at a time. If there were more companies, it is possible to divide the companies into more groups, for example via the sales interval.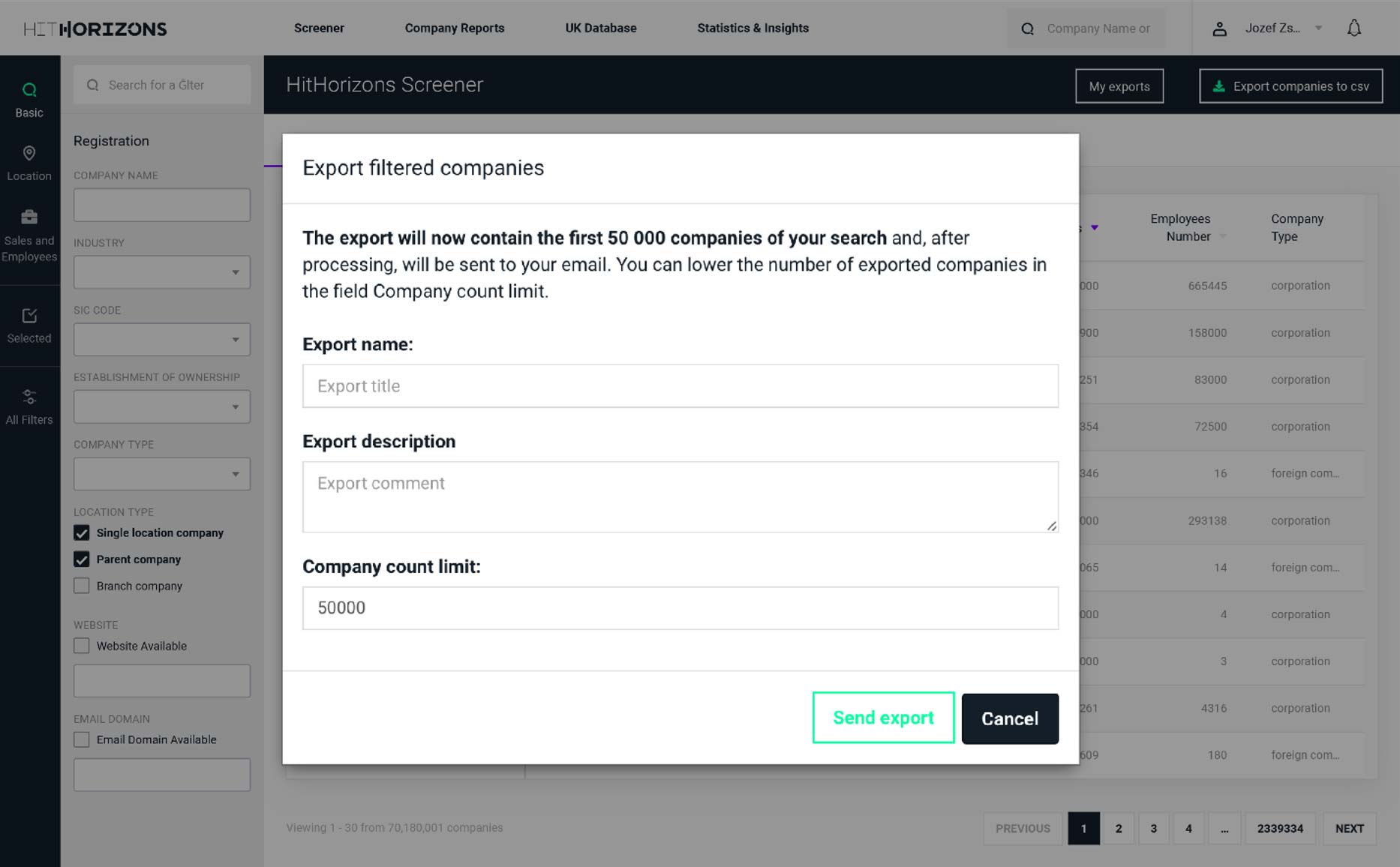 All your exports are saved in your profile and you can come back to them later.
If you are looking for customers, follow the same procedure. In this case, it depends on who you want to sell the processed wood to. For example, you could choose SIC code 2452 - Mfg prefabricated wood buildings. There are 430 companies operating in this particular sector in Germany. You can also download the data of these companies into a CSV and work with them in excel.
Maybe you have a small sales department or you want to select sales partners according to the amount of sales. In this case, you can focus only on a specific region or town in Germany and you can modify and expand the filtering criteria.
In this way, you can reach potential business partners quickly and efficiently.
Explore more contents on HitHorizons
Browse related
use cases
Use HitHorizons Screener to simplify the process of B2B lead generation. Streamline your outbound lead generation and acquire new partners easily.
View use case
Our tools help you identify potential customers for your sales or marketing department. Convert B2B prospects to B2B customers now.
View use case