How to find new customers? Searching online is one of the options especially if you only need to find a couple of entities. This will take time but in the end you might identify relevant businesses or even find whole lists of companies aggregated by others.
HitHorizons aggregates 30+ data points on more than 80M+ companies from 60 countries (including the whole of Europe).
HitHorizons Screener
searches through the whole HitHorizons database based on filtering and sorting criteria relevant to you (company name, address, industry specification (including SIC Code), number of employees, sales performance, contact details, etc.).
But online research will not provide a more detailed picture of the market and individual businesses' standing compared to each other. Plus, exporting data and working with it might be problematic - data often needs to be translated and is sometimes only available in formats that are hard to process further (for example, in PDF). That's where having access to the HitHorizons database can help.
Here is how you can get a list of potential customers using filtering criteria relevant for your business
Let's say your company produces office supplies in Germany. focuses on processing wood and is looking for suppliers in Germany. To find relevant companies using HitHorizons Screener, you will need to use just 3 filters - country (Germany), state / province you would like to focus on (for example, Bavaria), industries which are likely to need your products (for example, Services and Finance, Insurance, Real Estate).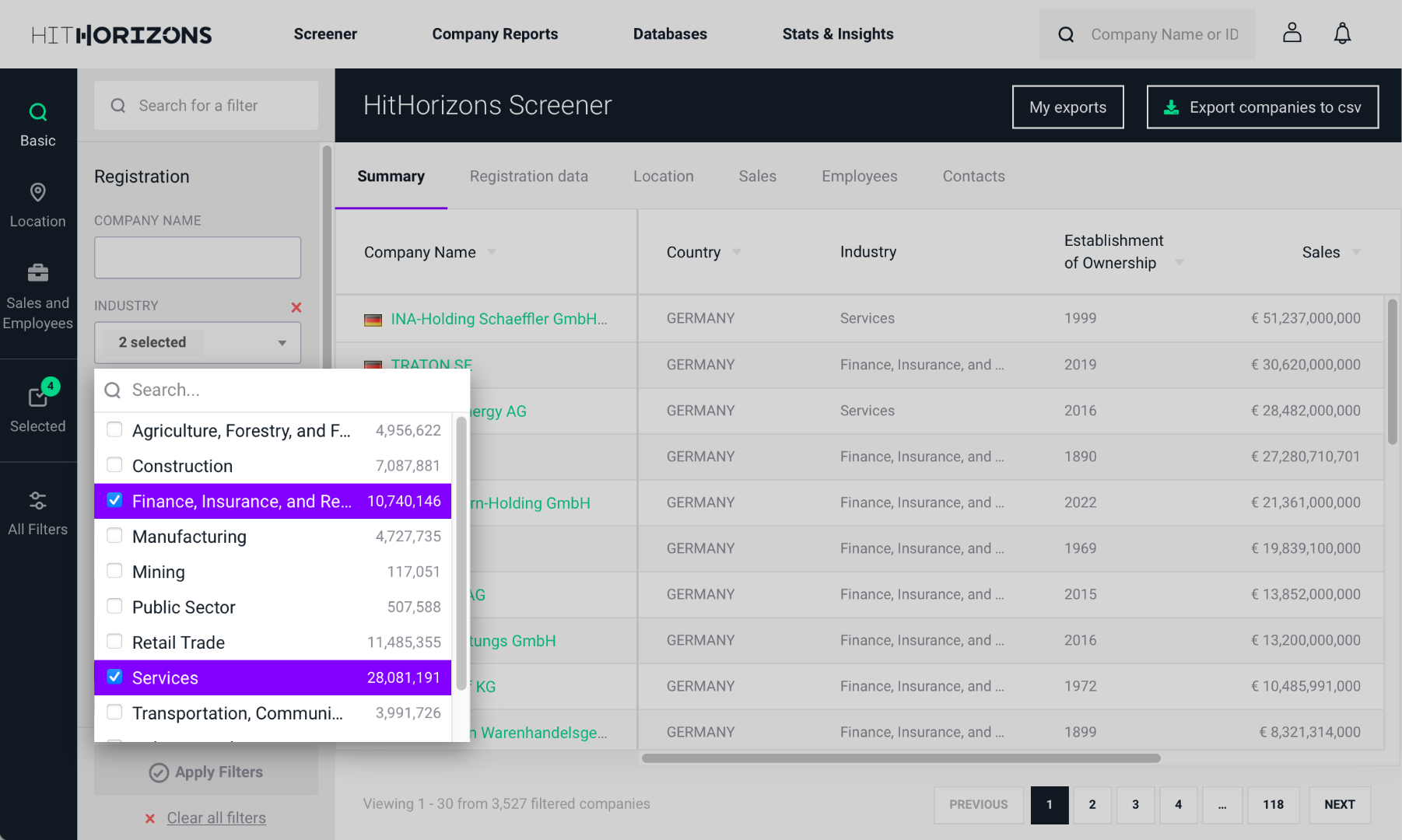 The fourth filter could be annual sales of your potential customers - this would help to filter out smaller businesses that you do not want to target. You can set the filter, for example, at annual sales of more than EUR 10M.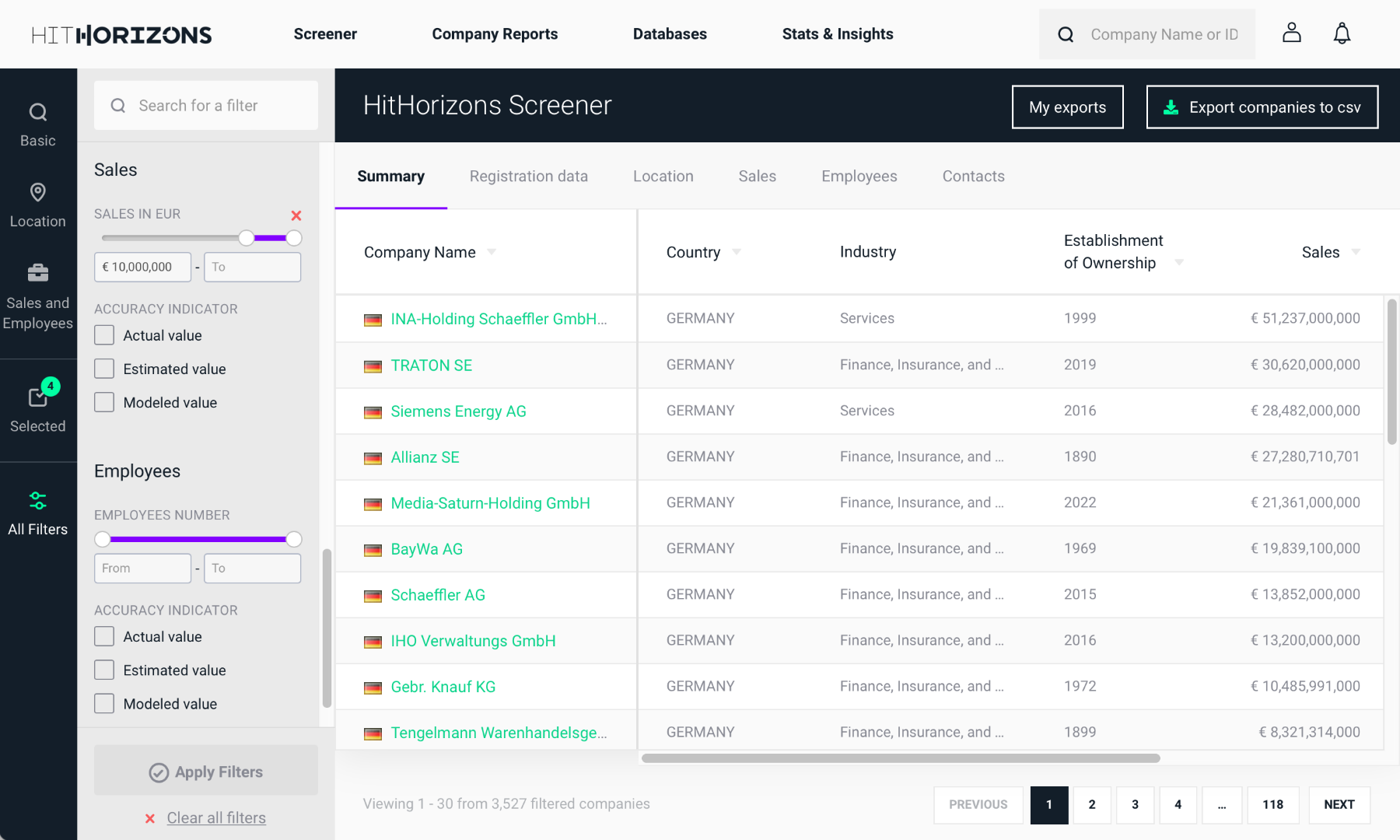 HitHorizons Screener will show you a list of companies that fulfil your criteria - 3 527 companies in Bavaria (Germany). You can refine your search and focus on the whole of Germany (20 558 companies total) or the whole of Europe (152 429 companies total).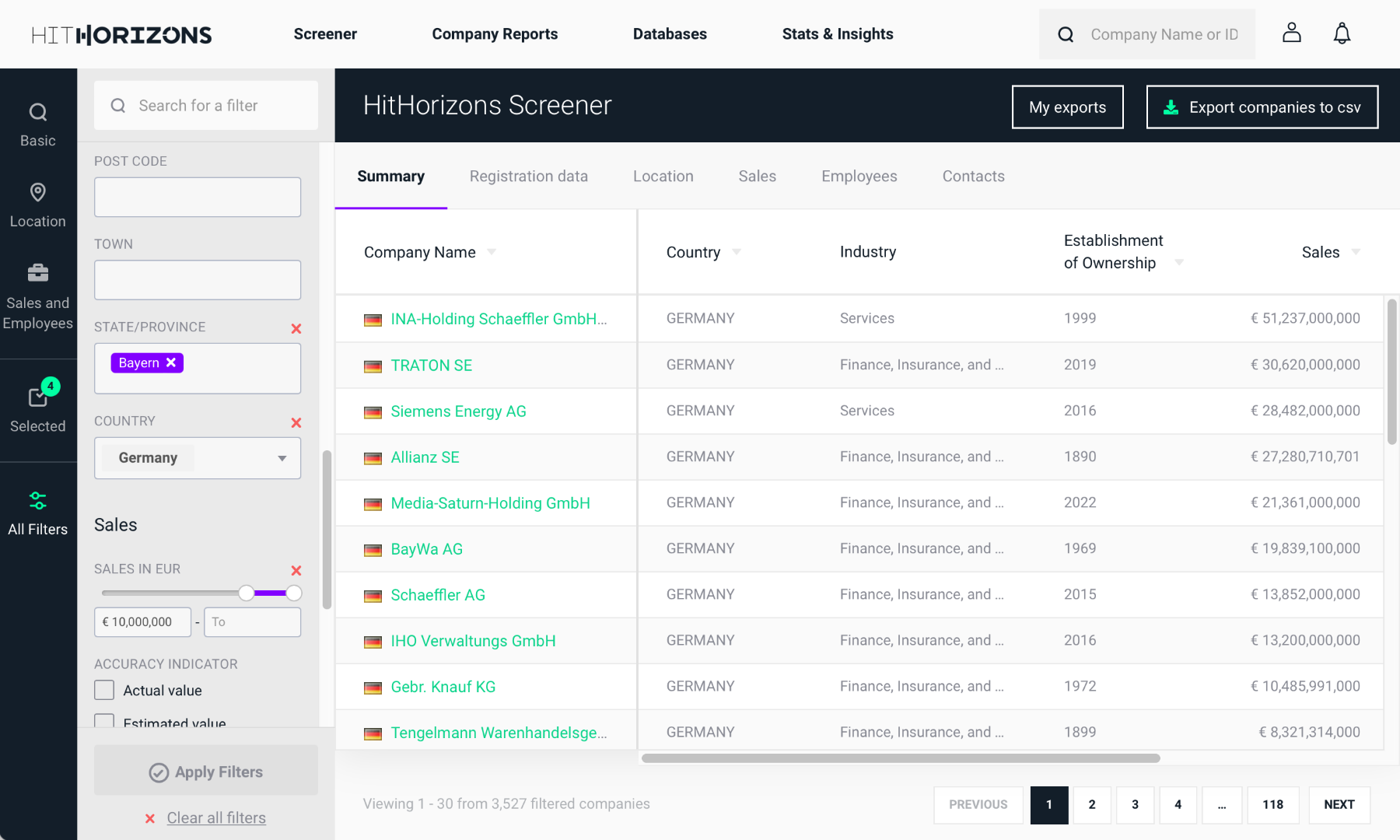 You can export all company data (name, address, sales, number of employees, contact details) in CSV and work with it in any tool you use (CRM, ERP, analytics software, data visualisation tools, etc.).
Find new customers across the whole of Europe, analyse individual industries and markets, get a grasp on the broader competitive landscape. No matter what your goal is, you will be able to get the data you need through
HitHorizons Screener
.