B2B leads can be generated through paid advertising outbound and inbound lead generation. Paid advertising involves engaging potential B2B customers through ads on Facebook, Youtube, Linkedin, or other platforms.
Outbound and inbound lead generation represent two very different approaches. Inbound lead generation is about passive content creation where your company waits to be contacted. For example, you describe a product or service through Youtube videos, articles on the website, or blog posts. The key is to engage readers or viewers as much as possible and motivate them to contact you.
Outbound lead generation is more proactive. Companies use their sales departments to contact potential customers through cold calling, cold emails, or messages on Linkedin.
In the case of outbound lead generation, you will need the contact details of companies you are interested in. Having a comprehensive and accurate list of entities you want to target will increase the efficiency of your sales department and the likelihood of finding as many leads as possible.
You have two ways to find potential B2B customers. For example, you can search on the Internet, focusing on a particular industry. However, this would be time-consuming, and results could be unreliable. You may end up finding companies that are not relevant to your business or are not interested in your product or service.
An alternative is to search through government registers. However, these don't always contain all relevant data. Some data may be entered incorrectly. They do not provide more sophisticated market insights that would tell you where individual companies stand compared to each other. You will only get basic company data which is not always free, often needs to be translated, and is sometimes only available in PDF.
As an alternative, you can use HitHorizons Screener, which contains data on more than 75 million companies from 60 countries (including the whole of Europe). For example, if you were a bicycle manufacturer, you could be looking for companies selling bikes, for instance, in France, and more specifically, in Paris.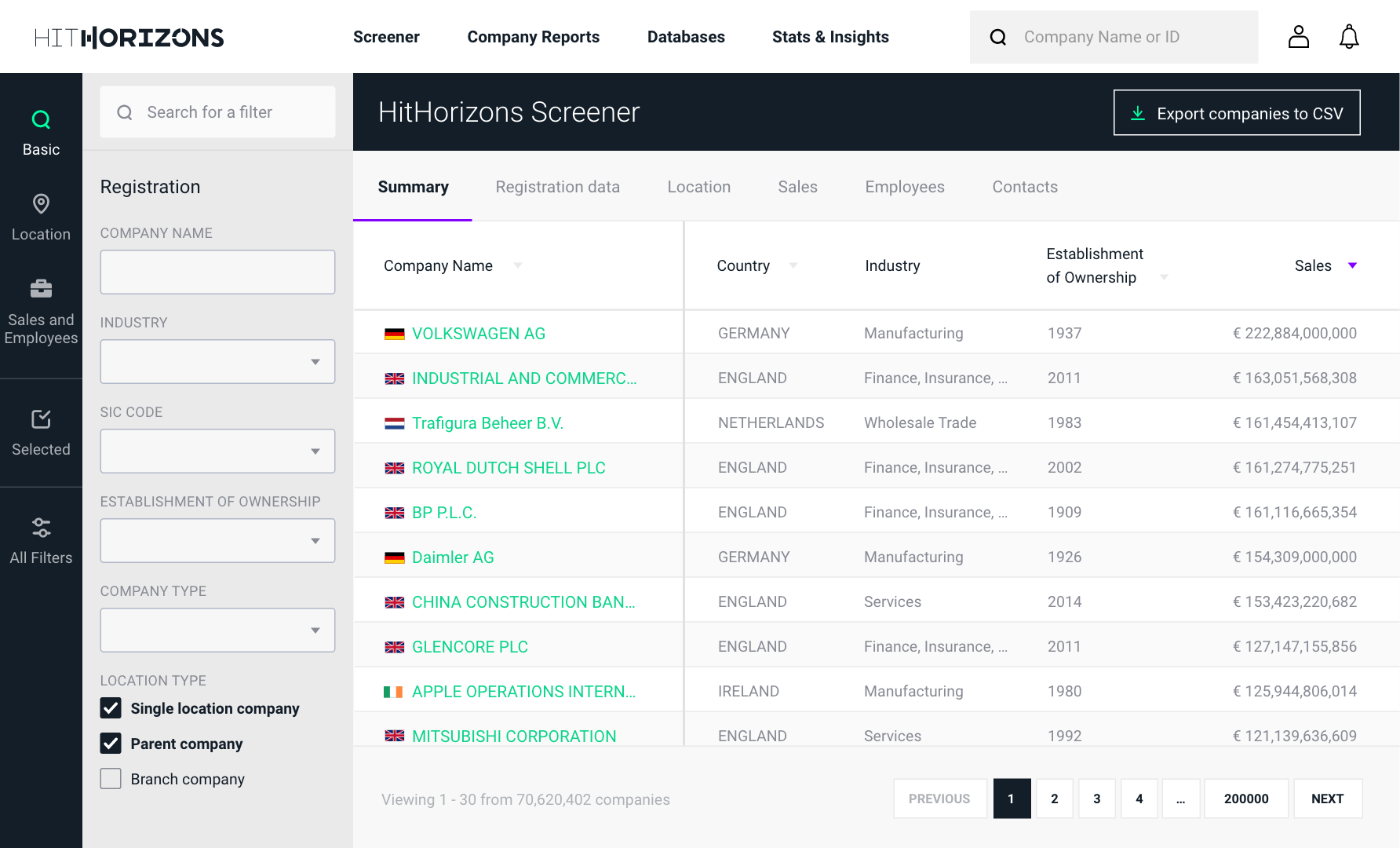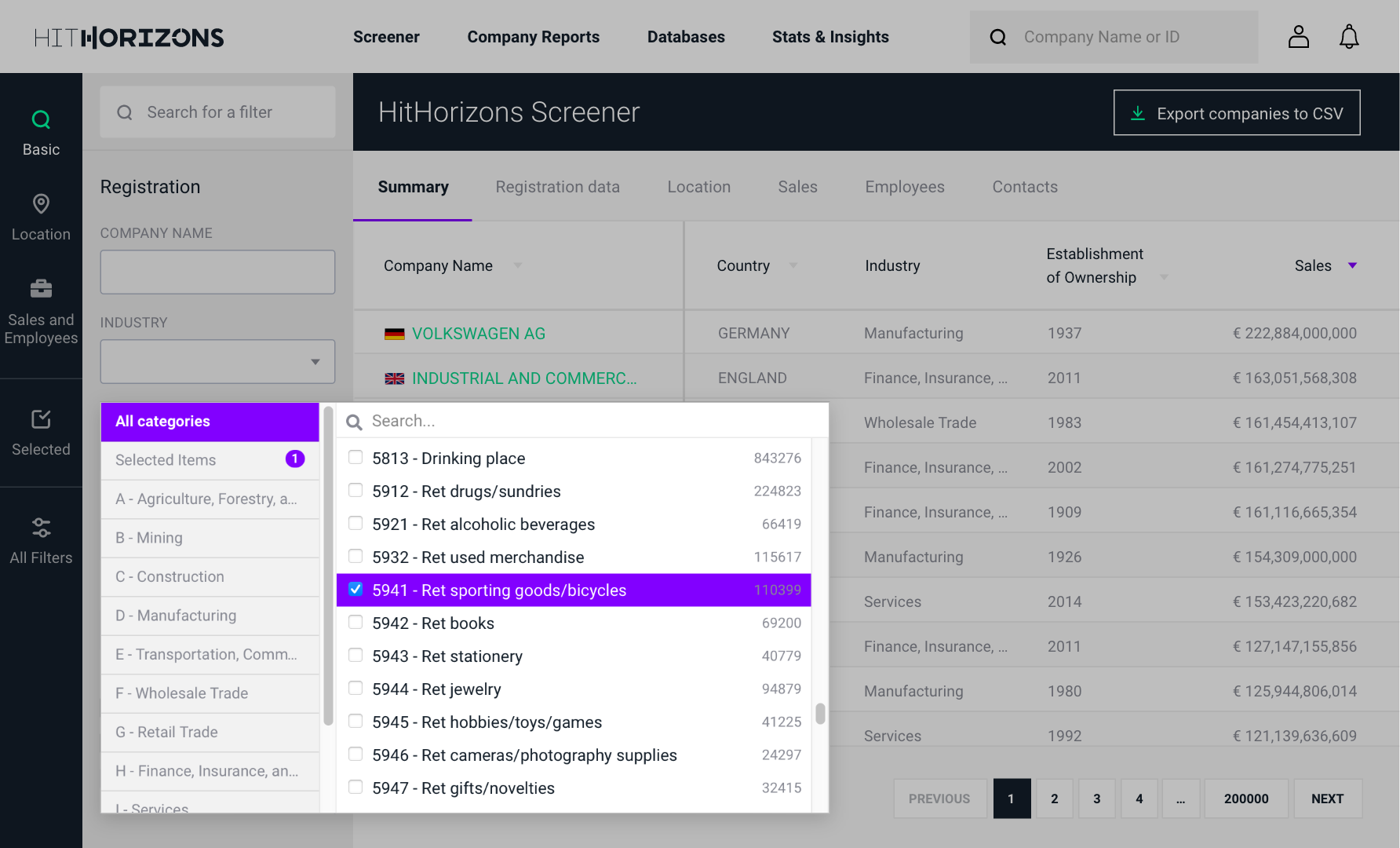 HitHorizons Screener will then show you 330 companies operating in that sector in Paris. You can export all the data, such as company name, registered office, address, sales, number of employees, and contact details in CSV. Work with that CSV in any tool you use (CRM, ERP, analytics software, data visualisation tools, etc.). You can download up to 50 thousand companies at once. You will then go back to the exported dataset through the download history available in your profile.
You could also decide to focus on the whole of France. In this case, HitHorizons Screener will offer you a list of 9,917 companies. If this number is too large for your company and the capacities of your sales department, use another relevant filter such as, for example, annual sales of over 500 thousand euros. In this case, HitHorizons Screener will give you a list of 2,555 companies in France.
Let us show you how HitHorizons Screener can simplify and streamline your outbound lead generation at ask@hithorizons.com.
Explore more contents on HitHorizons
Browse related
use cases
Our tools help you identify potential customers for your sales or marketing department. Convert B2B prospects to B2B customers now.
View use case
Finding a new business client among 50 million companies in the European Union can be painful. Learn how to reach potential B2B partners and wholesalers quickly and efficiently.
View use case