There are three methods used in lead generation, such as paid advertising, outbound and inbound lead generation. Paid advertising involves engaging potential B2B customers through ads whether on facebook, youtube, linkedin or other platforms.
There is a difference in approach in outbound and inbound lead generation. Inbound lead generation is about passive content creation where the company waits to be contacted. For example, a company describes a product or service through youtube videos, articles on its website or blog posts in the media. The key is to engage the reader or viewer as much as possible so that they immediately could contact the company.
In the case of outbound generation, the company's approach is more proactive. It uses its sales department to proactively contact potential customers. These include cold calling, cold emails or reaching out via Linkedin.
Outbound lead generation is especially important, because in lead generation you will first need contacts for the companies you are interested in. An effective method is just one that provides as accurate a list of companies as possible. In such a way you can increase the efficiency of your sales department and the likelihood that you will find as many leads as possible.
You have two ways to reach potential customers. The first is to simply search on the Internet, for example, through the industry you are in and in which you are looking for B2B customers. However, such a search is time-consuming with uncertain results. You may not get to the right companies and it may be that most of them will not want a product or service from you. An alternative may be to search through government registers, but these usually do not contain more sophisticated analytics. You only get to basic company data, which you often can not work with further because it's in PDFs. Not to mention that the data may not be filled in correctly.
The other option is to use HitHorizons' Screener, which contains data with more than 75 million companies from 60 European and post-Soviet countries. For example, if you were in the bicycle business and were a bicycle manufacturer, you would probably be looking for end companies that sell bicycles to people. You can look for such companies, for example, in France, specifically in Paris.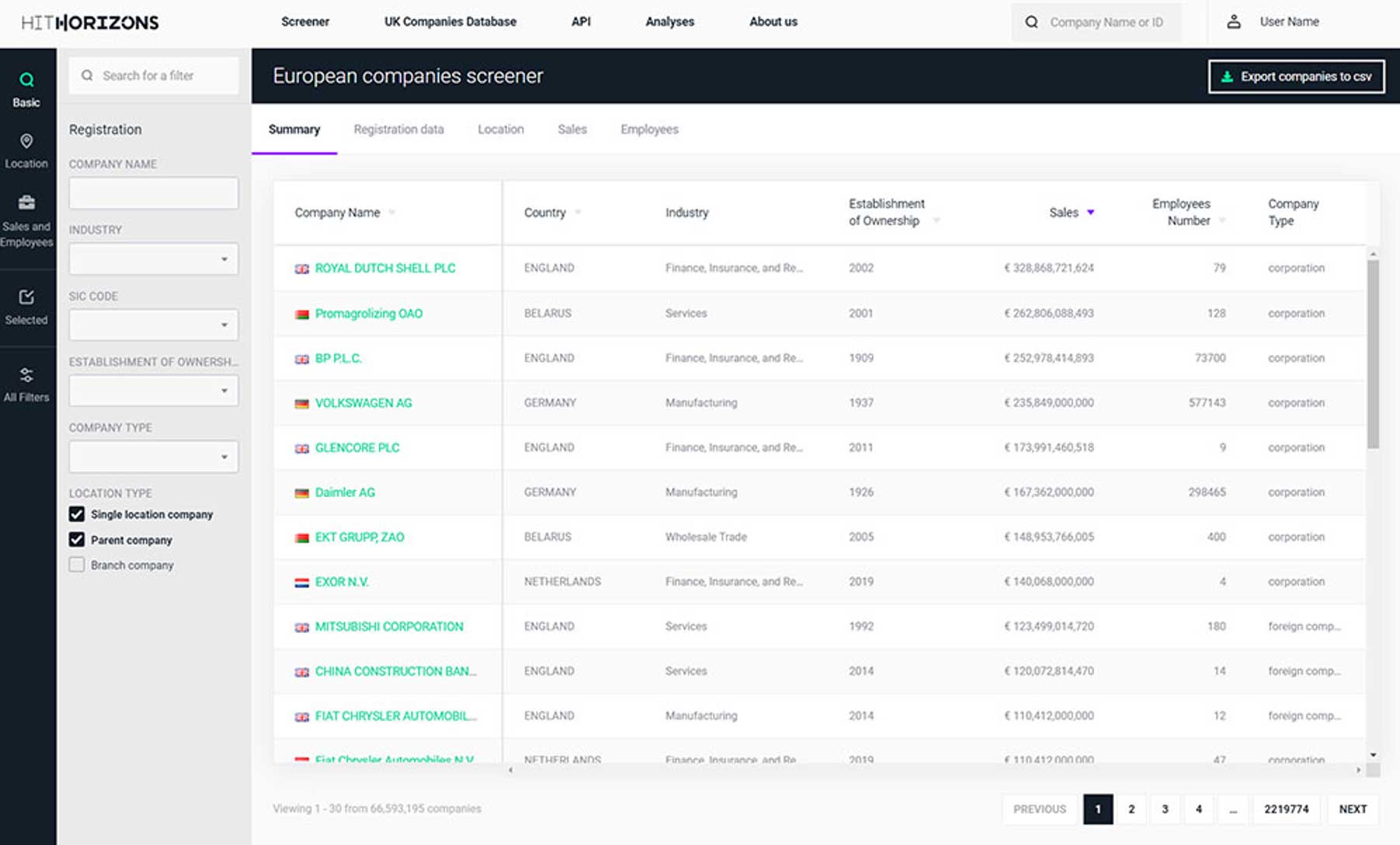 In Screener, you will need 4 of the 18 filter criteria, namely country, town, industry and the SIC code itself (5941 - ret sporting goods/bicycles). Select the "all filters" option in the left part of the screener and then select the desired filter criteria in the left part.
The screener will then show you 330 companies operating in that sector in Paris. You can export all the data, i.e. name, registered office, address, sales, number of employees and contacts in CSV and then work with them in excel. You can download 50 thousand companies at once. If you ever want to come back to the export, you can find it in your profile in the download history.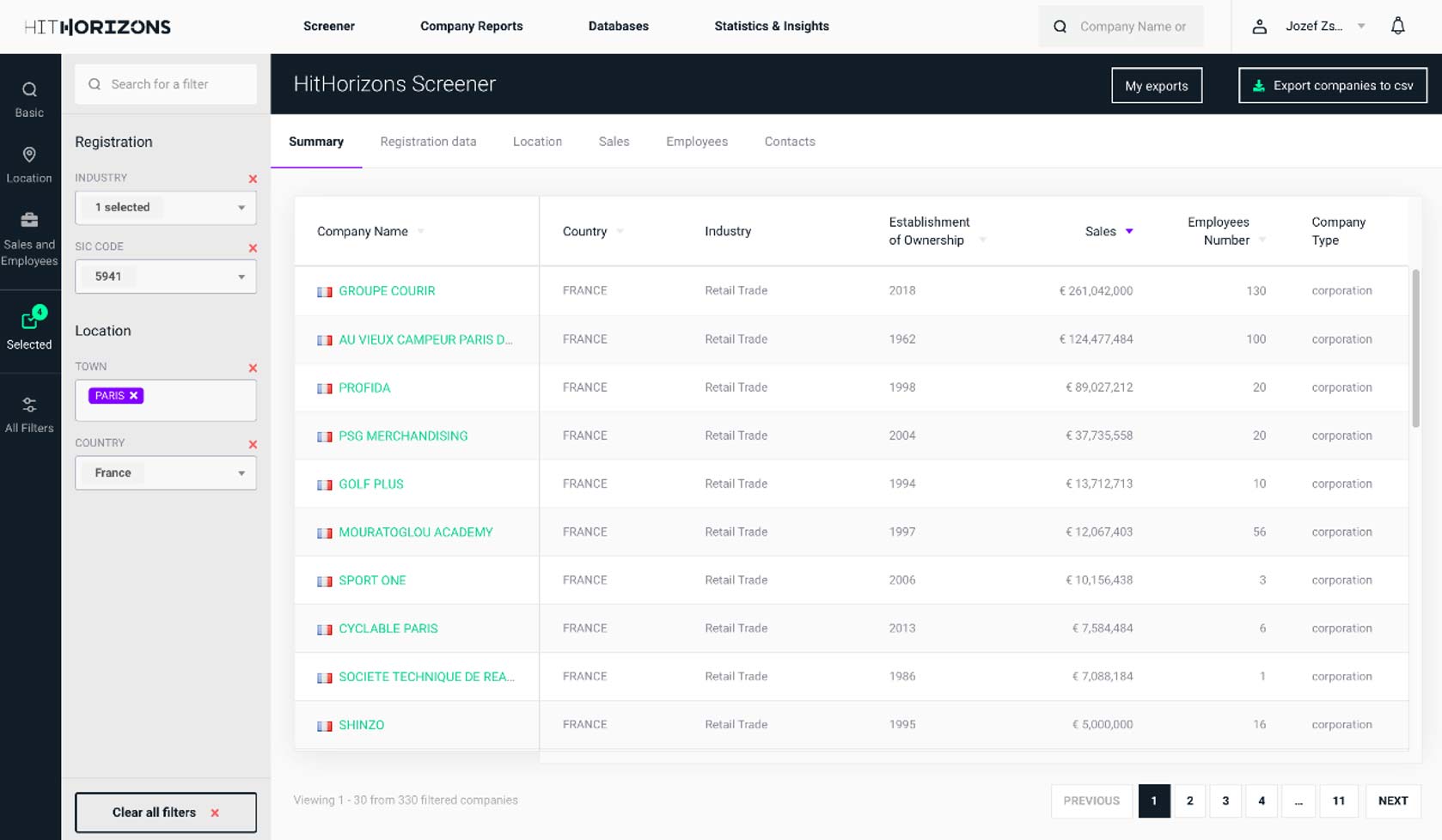 In case you focus on the whole of France, the screener will offer you 9 917 companies. If this number is too large for your company and the capacity of your sales department can not cover it, it is possible to use another filter, e.g. a sales interval of 500 thousand euros per year. In this case, the screener will find you 2,555 companies in France.
The screener will thus simplify and streamline your outbound lead generation.
Explore more contents on HitHorizons
Browse related
use cases
Our tools help you identify potential customers for your sales or marketing department. Convert B2B prospects to B2B customers now.
View use case
Finding a new business client among 50 million companies in the European Union can be painful. Learn how to reach potential B2B partners and wholesalers quickly and efficiently.
View use case