Every company, big or small, needs market research to make decisions to expand to new markets or when launching new products.
If you need to find relevant companies within a particular industry where there are not a lot of players, a manual Google search might be more than enough.
However, a manual search will not be very efficient if you need to understand the market dynamics within a more significant industry or several countries. Let's take a look at a case of a company producing plastic parts and looking for customers in the automotive sector within the EU.
It would make more sense to rely on third-party services that aggregate company data across several industries and countries. HitHorizons offers precisely that.
How big is the market in which I want to launch my product?
What is my current market share?
Who are the key players in this market?
Who are the main competitors?
How much do they generate in sales?
What market share can I gain?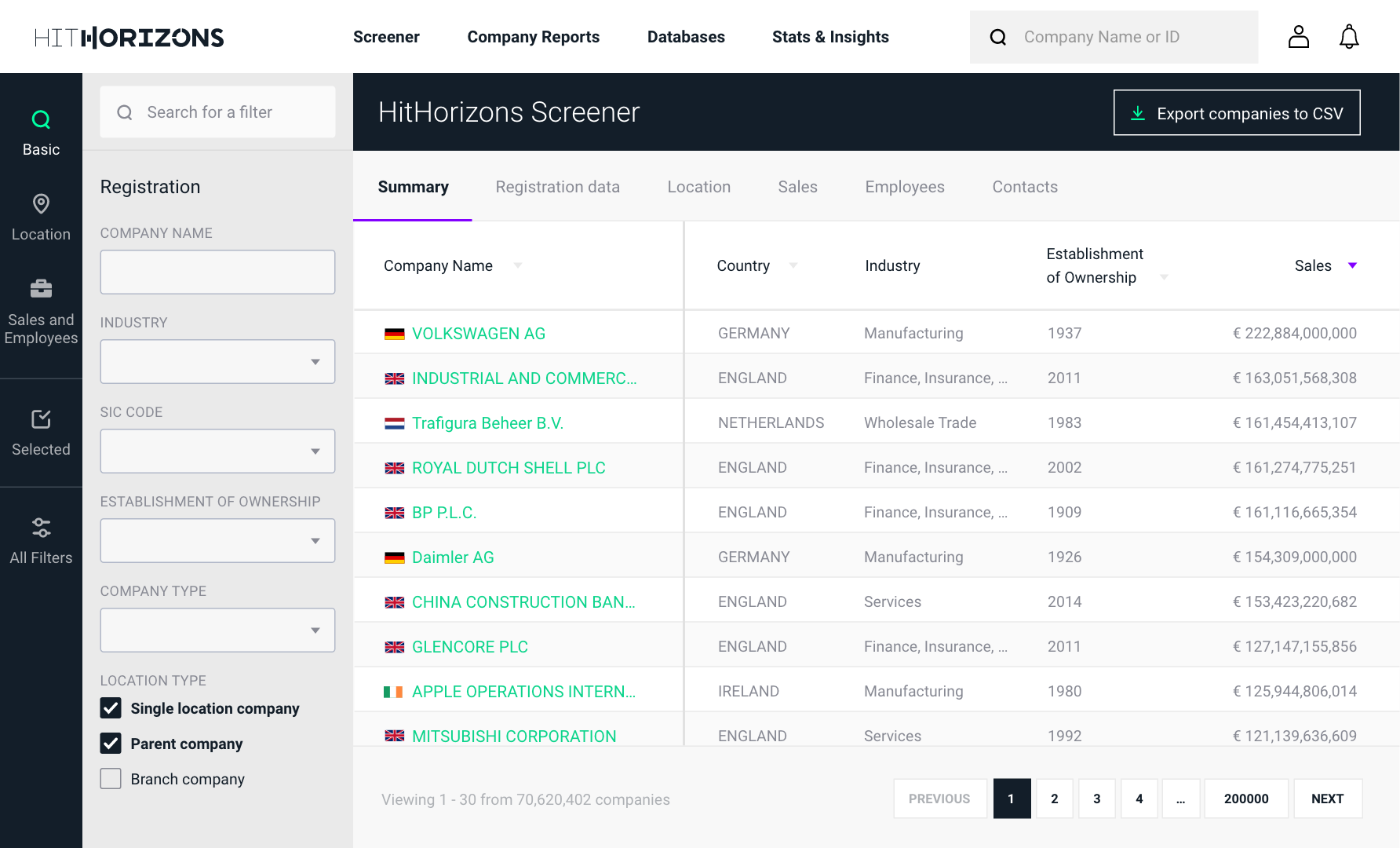 Your company produces parts for car manufacturers and looks for new customers within the EU. It will be enough to use just 2 filers - region (in this case EU27) and SIC Code (in this case 3711 - Manufacturing motor vehicle/car bodies). HitHorizons Screener will show you 12,523 companies operating in this sector in the EU. You can refine your search further by adding more filters - for example, sales performance, number of employees, date of establishment, company type, etc. - to find targets that are ideal for your business.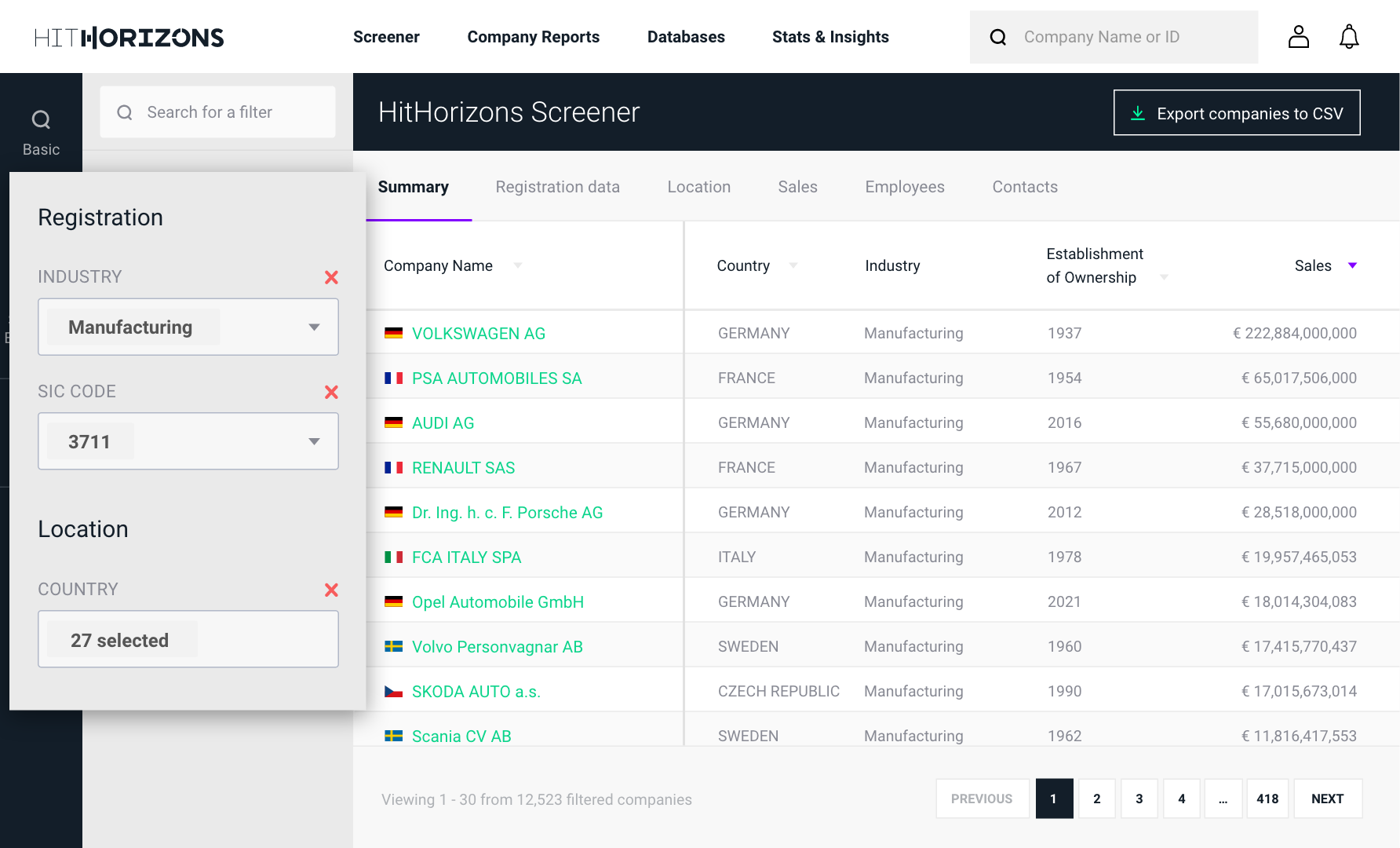 You can export all company data (name, address, sales, number of employees, contact details) to CSV and then work with that data in any tool you use (CRM, ERP, analytics software, data visualisation tools, etc.).
How to analyse data downloaded from HitHorizons Screener
First, we can look at the number of relevant companies within individual countries. Spain (1,927), Germany (1,807) and France (1,578) have the highest number of companies operating in this sector. Overall, 86.9% of all companies operate in the top 10 countries.
Let's look at the number of employees within the sector. Germany is a clear leader with 927 thousand people working in that industry, Italy with 80 thousand employees, and Spain with 78 thousand employees. Germany's position can be explained by the fact that this country is home to some of the largest car manufacturers that employ tens of thousands of people.
The sector's total sales in 27 EU countries are EUR 733B. Germany's industry is most robust regarding average sales, with more than EUR 198M. Romania is second with average sales of more than EUR 101M. Sweden is third with EUR 44M.
If you wanted to look at specific companies and their sales performance, the leader would be Germany's VOLKSWAGEN AG, with more than EUR 220B sales, about 30% of the entire sector in the EU. French PSA AUTOMOBILES SA is second with sales of EUR 65B. The third is German AUDI AG with sales of EUR 55B.
Companies with highest sales
Germany is the most exciting market in terms of distribution of companies and sales since most of the large car manufacturers are based there. However, a greater degree of competition must also be considered, as suppliers of German car manufacturers are primarily located in the vicinity of their customers.
You can also focus only on companies that generate more than EUR 1B per year. Out of more than 12,000 companies, this would narrow the list down to just 60, and the most significant number of companies operate in Germany (10), France (10), and Spain (8). These 60 most prominent companies have total sales of more than EUR 671B, 91.5% of the entire industry's sales.
Number of companies with sales over 1B€
The automotive manufacturing sector is highly concentrated, with only a few key players generating most of the sector's sales and employing most people.
No matter what the focus of your market research is, you will get contact details of all relevant companies and will therefore be ready to move forward with your business development activities straight away.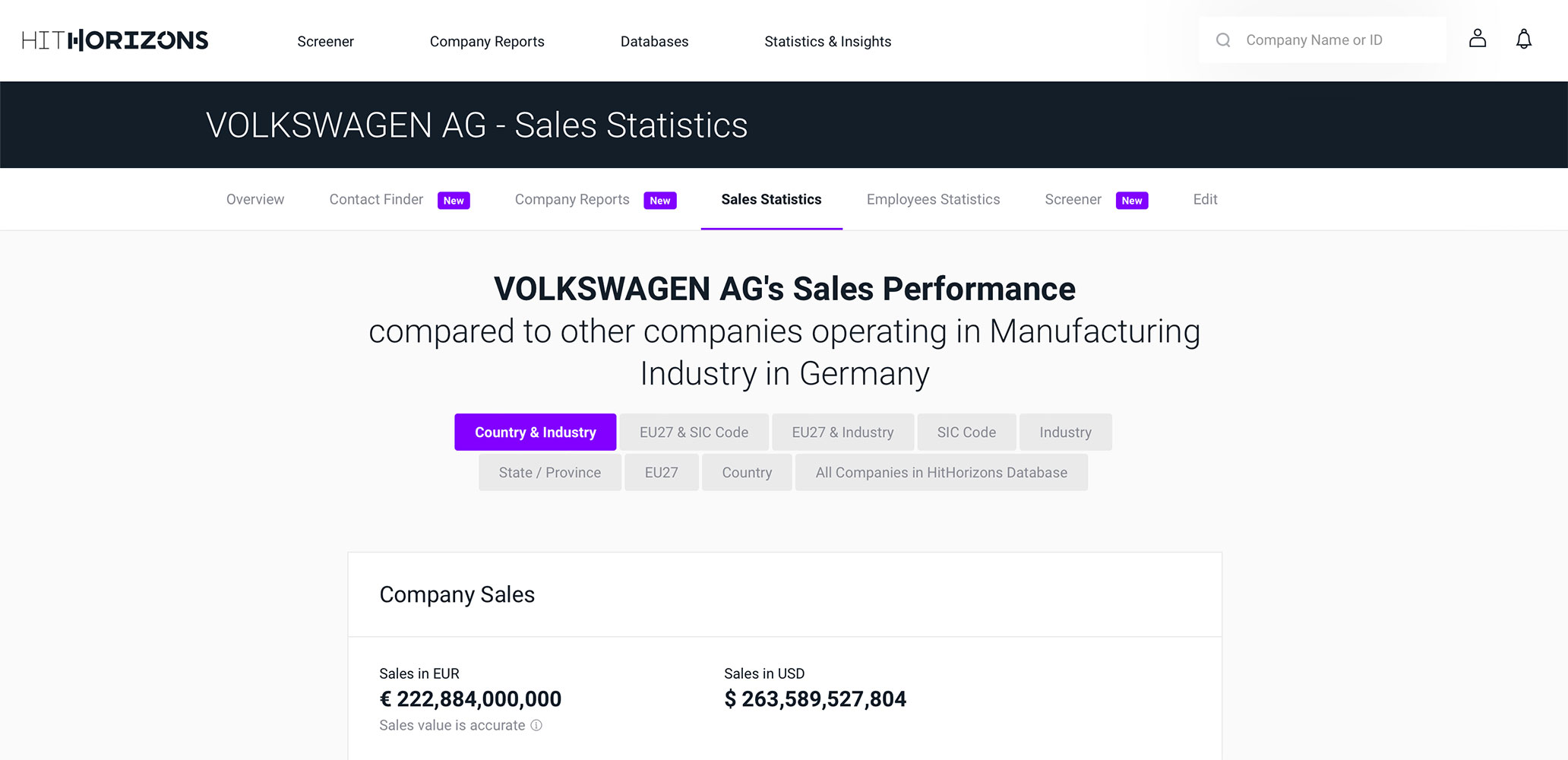 Within the "Sales Statistics" subpage and the relevant SIC Code, you can, for example, find out where your company stands compared to others in a simple histogram. You can benchmark your sales performance not only within your sector (SIC Code) but also within an entire industry, country, European Union, or a combination of a specific country and industry.
"Employees Statistics" works on the same principle. This compares companies within a SIC code, an entire industry, a country, or a region.
From "Employees Statistics" and "Sales Statistics," you can click through to the list of companies similar to the one you are currently looking at.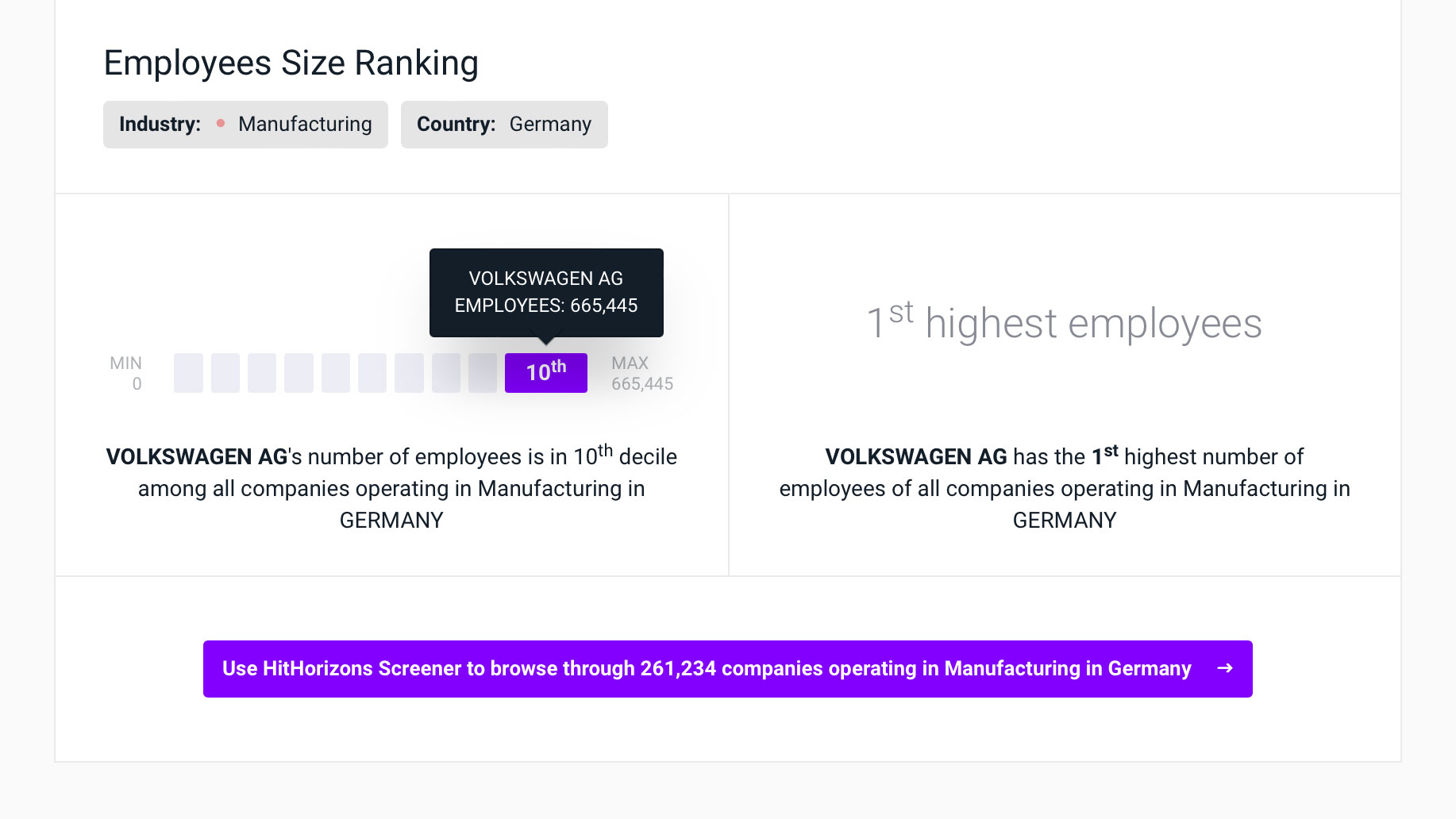 No matter where your company is heading, market research will always be essential for understanding the broader market dynamics, picking your target markets, or tuning your strategy. Some tools help you with that.