To identify prospects and convert them to customers, start with an Ideal Customer Profile (ICP) - a set of characteristics of your ideal future customer. Your marketing department can then use this profile to make targeted advertising campaigns on social media or other channels. Your sales department, in turn, will need contact details of potential B2B customers to be able to reach out to them via Linkedin, phone, or email.
HitHorizons aggregates 30+ data points on more than 80M+ companies from 60 countries (including the whole of Europe).
HitHorizons Screener
searches through the whole HitHorizons database based on filtering and sorting criteria relevant to you (company name, address, industry specification (including SIC Code), number of employees, sales performance, contact details, etc.).
To find relevant contact details you can turn to online research. This is usually inefficient. As an alternative, you can use national registers, but these do not always contain all the data, the data can't always be downloaded and analysed in bulk, and not all that data is available for free. That's where the HitHorizons database and HitHorizons Screener can help.
Here is how you can get contact details of your prospects using filtering criteria relevant for your industry and region
Let's say your company is a liquor wholesaler in Spain and you need to find relevant retail distribution partners in Europe. To find relevant companies using HitHorizons Screener, you would need to use just 3 filtering criteria - the country you are interested in, industry, and SIC Code.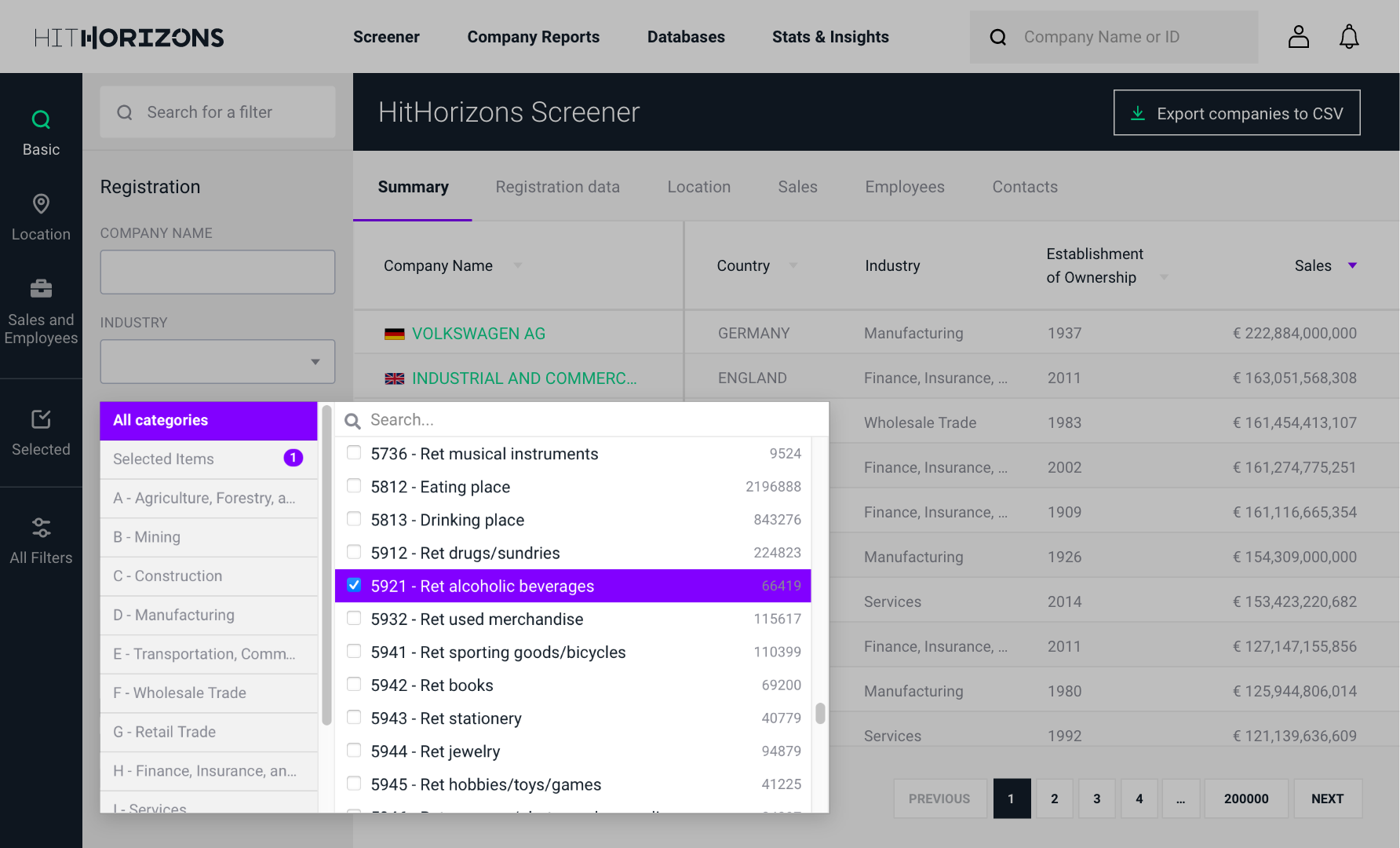 HitHorizons Screener will show you 3,155 companies that match your filtering criteria. If you want to reduce the number of companies, you can also use sales performance as a filter - for example, companies with annual sales of 100 thousand euros or more. In this case, HitHorizons Screener will show you 1,047 companies that you can add to your database of prospects.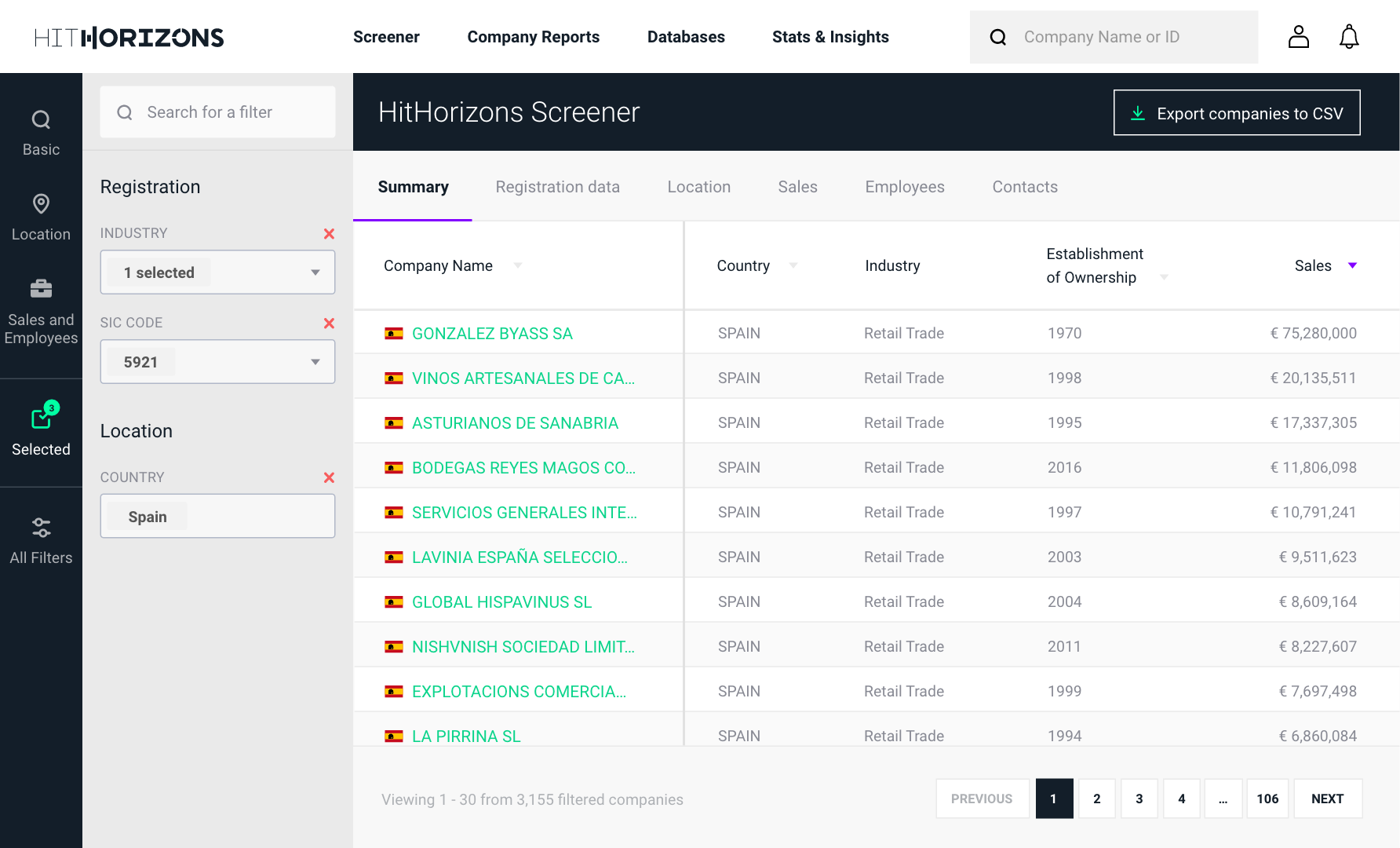 To expand your search you can also decide to focus on, for example, France. In this case, HitHorizons Screener will show you 10,670 additional companies. Once you are done with your search, you can download the list of companies and their contact details in CSV and process it further in Excel and any other software you use.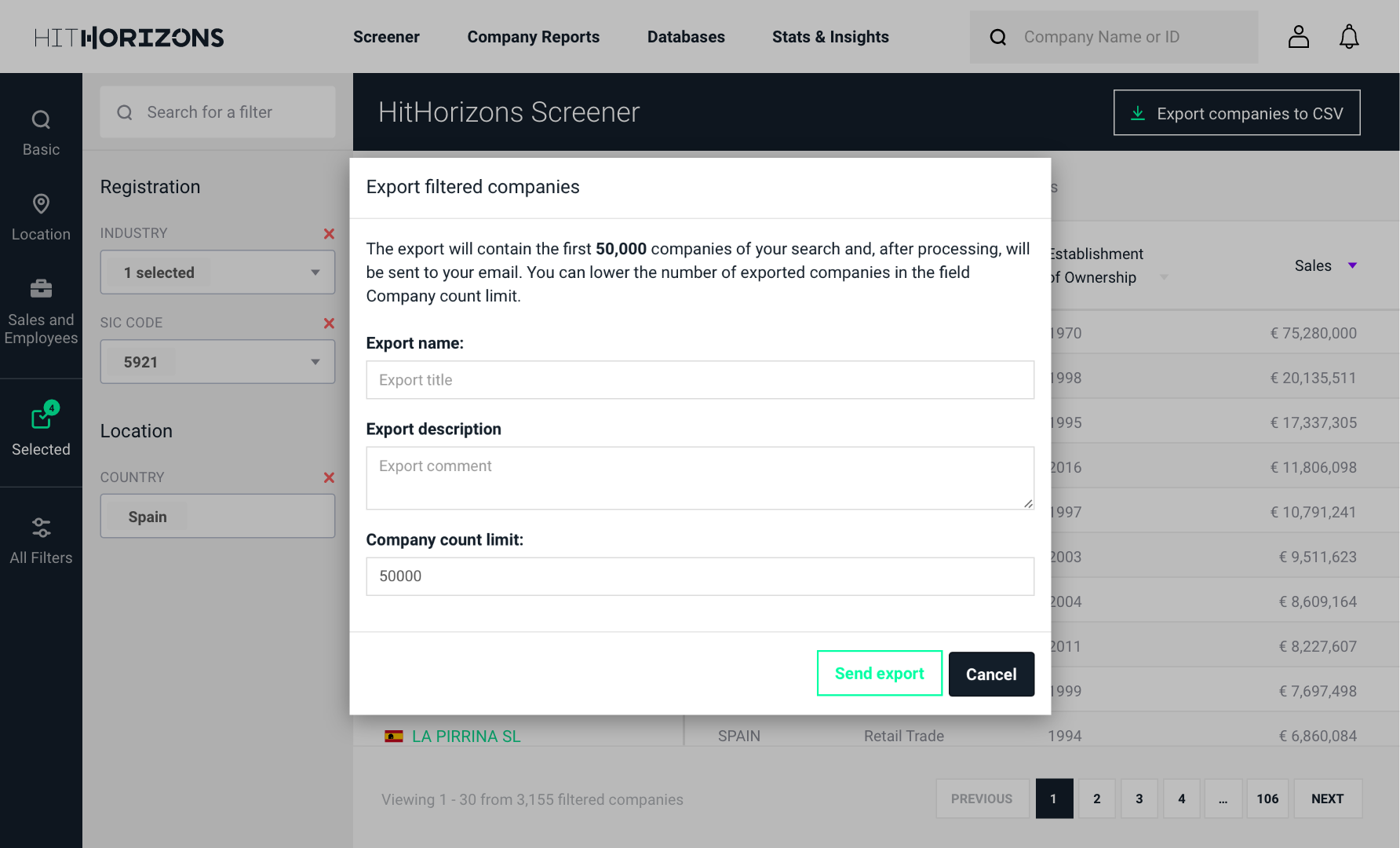 Find new customers across the whole of Europe, analyse individual industries and markets, get a grasp on the broader competitive landscape. No matter what your goal is, you will be able to get the data you need through
HitHorizons Screener
.